Featuring the largest 25K in the country, the event is also the USATF 25 km Open Championships
More than 18,000 people are expected to participate in race day events including a 25K Relay, 25K Handcycle and Wheelchair Division, 10K, 5K Run and 5K Community Walk.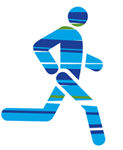 Charity of the Month
Conductive Learning Center
The Conductive Learning Center (CLC) serves children from birth to age 26 with motor disorders related to complications of premature birth, Cerebral Palsy, Spina Bifida, or brain injury.   Read More
Amway River Bank Run is committed to helping nonprofits raise funds through running and fitness and this year's Charity Partner Program is an excellent opportunity for them to market their valuable missions through the 2019.